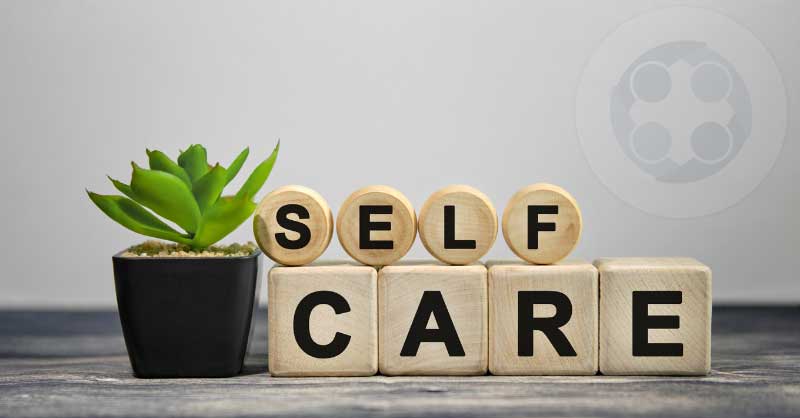 Hi folks! We're excited to share with you this blog post written by: Michelle C. Danda PhD(c) RN CPMN(C) and Claire Pitcher MSN RN(C
Self-care is a term that has become more common during the stress of the Covid-19 crisis. It pops up in media headlines, social media posts, and everyday casual conversations with friends. But, for people who work in mental healthcare, the term is likely much more familiar and might even be a cornerstone of the way we do our work. Given the often-high stakes and high-stress nature of working with people in an acute mental health crisis, self-care is something that we as support people should not just be aspiring to do, it is something that is necessary to build into our day-to-day practices of life. Each day in our personal and professional lives, we are faced with all sorts of stressors.
As a student in the field of mental health, it is especially important to understand what self-care is, know when you are doing it, and know who to reach out to for help when you feel like your energy is low or you are having a difficult time coping with the daily stressors of work and life. It is also important to know that support is available and just because you may feel stressed (or even burnt out), that doesn't mean you've done anything "wrong". Rather, it likely is a sign you may need to add some extra tools to your "Self-Care" toolkit and perhaps that your school or employer can offer you additional support because we know that self-care cannot be achieved by each individual trying to do their best to cope in a vacuum. Self-care IS community care and vice versa.
The core of self-care is understanding that caring for yourself is something that is not a "nice to do" or an occasional treat you give yourself. Rather, it is a necessary part of life in order to maintain your health in the often-stressful day-to-day environments that we work in. Working in mental health care can be both extremely rewarding and also challenging as it can involve witnessing another person's suffering while also gaining an in-depth knowledge of many of the social injustices on a systemic level, and opening our eyes to many social issues that we might not have previously been aware of.

Figuring out how to cope with such individual and systems-level complexities can sometimes feel like a steep uphill climb. It can also be a really individual journey to figure out what self-care looks like for you – what works to soothe and rejuvenate one person may not be as helpful for someone else! This is why learning about self-care and what it means for you is just as important on our learning journeys as the more practical and theoretical pieces we often focus on as students. Part of self-care is also recognizing signs that you may be feeling worn down or burnt out. There are MANY resources available about burnout within helping professions – we'll include a list below of some common signs that people are feeling burnt out. Again, though, it's important to recognize this is different for everyone and the most important thing is taking time to get to know YOUR signs, and knowing who to reach out to if you need additional support. If you find you are feeling worn down and your mental health is struggling, you may benefit from and need support that goes beyond routine "self-care" practices. In these situations, it is important to seek support through people like your local health care provider such as a family doctor or nurse, a crisis line (Canada Crisis Line:1-833-456-4566), or your local hospital.
5 Signs You May Be Feeling Worn Down
Feeling or like you have "too much" on your plate to be able to slow down
Feeling anxiety or worry about things you used to enjoy
Irritability
Having a difficult time feeling a connection to your work, colleagues, clients, etc.
Thinking about work after your shift is done and having a hard time "turn work off"
Although there are often factors in our days and work that we can control on a day-to-day basis, there can also be small and big ways to introduce more self-care into our routines.  This is especially important while prominent health and social crises like the 
Covid-19 pandemic
 and 
poisoned drug supply (opiate) deaths 
have shone a spotlight on both the individual and systems-level challenges and need for action evident in our health care and social support networks. We've included a list below of some of the self-care strategies we have found the most impactful over the course of our combined 20+ years of working as Registered Nurses.
6 Things You Can Do For Self-Care
Take a Moment to Reflect – this can include journaling, meditating, going for a walk-in nature.
Reach out for Support – this can include approaching your teachers/faculty, seeking out a counsellor, opening up to a trusted peer, and considering whether more robust supports such as booking an appointment with your local doctor or other community support (if available) may be beneficial
Do Something to Feel Empowered – this can include advocating for a change in your workplace or community that you believe in, carving out time to look into a topic you are passionate about, etc. For information on resisting burnout with justice-doing, we recommend Vicky Reynold's article.
Collaborate – this can include seeking out a mentor, building partnerships with like-minded colleagues or friends to work on "passion projects" together, co-authoring op-eds, engaging with classmates around shared interests, finding study partners while in school, etc.
Make a Schedule – this can include a schedule for work and personal life responsibilities so you have a clear understanding of what's coming up next and you can plan ahead (as well as declining certain engagements if you're over-booked!)
Carve out time to do things you enjoy even if it's just for 5 minutes – this can include things like listening to your favourite song, watching a funny video online, doing 5 minutes of stretching, reading a chapter from your favourite book, etc.
We recently discussed the topic of self-care in the latest episode of our The Shift Change podcast. Please join us in that conversation and let us know what YOUR thoughts are on self-care on our website: The Shift Change.
To Learn More Visit:
Self-care Can Be Social Justice in Learning for Social Justice